Important facts about Air india Sale to Tata Group
Air India will be back to the Tata Group after decades being the national carrier. Tata Sons will pay Rs 18,000 crore for the Maharaja, outbidding a consortium led by SpiceJet's Ajay Singh who had bid Rs 15,100 crore. The transaction is expected to be close by end of December this year.
The debt-laden carrier has 127 aircraft, controlling 50.64% of the International market share when clubbed with AIXL, among Indian carriers.
Air India currently serves 42 international destinations. The government is selling its entire stake in Air India. Tata Group already owns about 84% stake in AirAsia India and 51% in Vistara.
The Tatas will get ownership of Brands like Air India, Indian Airlines, and the Maharajah. Air India has a fleet of 117 wide-body and narrow body aircrafts and AIXL has a fleet of 24 narrow body aircrafts.
Tata Sons will have to maintain at least 51% equity stake in Air India for a period of one year. Only after the completion of one year, Tatas can sell any stake in the airline.
Post-acquisition, the Tatas will own 100% stake in Air India as also 100% in its subsidiary Air India Express (a low cost carrier airline that focusses on short-haul international operations especially in the Middle East market) and 50% in the joint venture Air India SATS (airportservices on ground and cargo handling). The total permanent and contractual employee strength of Air India & AIXL is 13,500.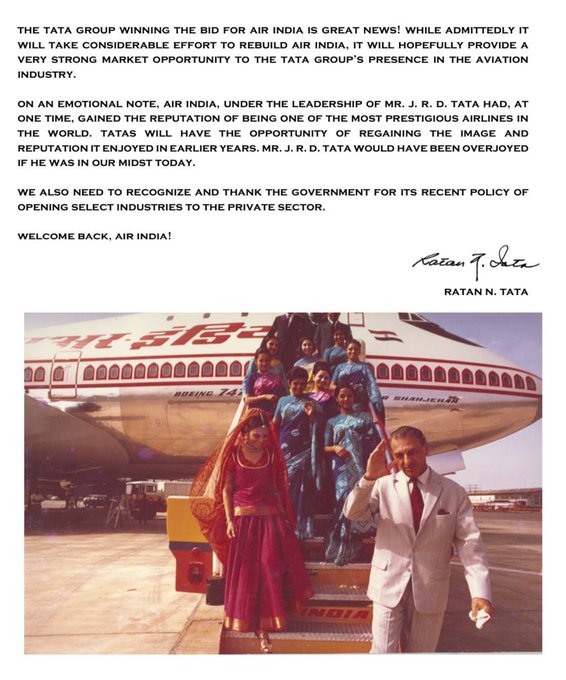 'JRD Tata would have been overjoyed'
On an emotional note, Air India, under the leadership of Mr JRD Tata had, at one time, gained the reputation of being one of the most prestigious Airlines in the world. Tatas will have the opportunity of regaining the image and reputation enjoyed in earlier years. MR JRD Tata would have been overjoyed if he was in our midst today
~ Ratan Tata
No employees to be removed for one year
Tata Sons will have to retain all current employees of Air India for a one year period, the government said. From the second year, Air India employees will have to be offered a VRS. Further, gratuity benefits and PF benefits will be applicable.
Air India loses Rs 20 crore per day . The maharaja has been reeling under a massive debt that stands close to Rs 70,000 crore.
The reserve price set by the government for Air India was Rs 12,906 crore.
AIAHL will take over the debt of Rs 46,262 crore from Air India, along with assets worth Rs 14,718 crore.
The government of India will get Rs 2,700 crore in cash from the deal will the remaining Rs 15,300 will be debt taken over by the Tata Sons.
Taxpayers have put in Rs 1,10,276 crore in Air India since 2009-10 as per DIPAM official.