Best restaurants in bhopal
Set in the central Indiaa, the state of Madhya Pradesh, Bhopal is a very well reputed and recognised city and is home to two main lakes, the Upper Lake and the Lower lake . Bhopal is considered as greenest citiesof India. Van Vihar National Park is situated here rightly set on the banks of the Upper Lake and is known to be home to tigers, lions and leopards.
It is also home to Asia's largest mosques named Taj-ul-Masjid. Being such a fine tourist destination, it has several attractions for you to explore and witness the beauty of Bhopal and they are worth a visit. And when we are talking about Madhya Pradesh, could we even dare to not talk about food?
we have listed out the best restaurants in Bhopal and you can take a look at them. Check out if your favourite one made it to the list!
Top 10 restaurants in bhopal
Lazeez Hakeem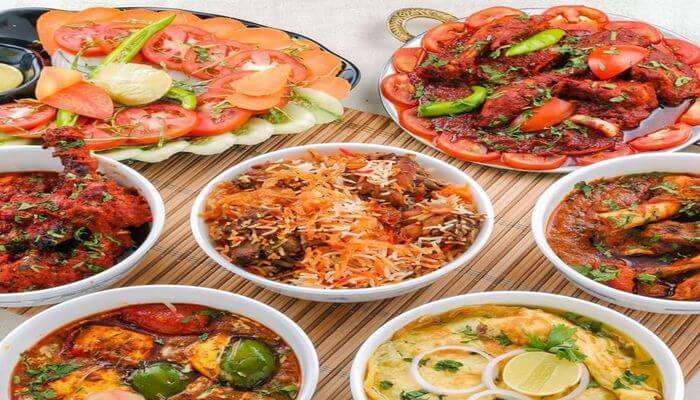 This is one of the finest restaurants in Bhopal known for its taste and service. It has some great delicacies especially the non-vegetarian items are just great. It has earned its fine share of reputation and the authentic butter chicken sold here is the talk of the town. Their menu is full of top food items and all are perfectly fine in taste and quality. Let's not forget to mention their finger-licking Biryani rightly cooked with the perfect blend of spices and other ingredients.
Cuisines: Indian
Special Diets: Halal
Meals: Lunch, Dinner
Features: Seating, Reservations and Table Service
Location: 187/A, Zone-I, MP Nagar Zone-1, Bhopal 462063 India
Momo Café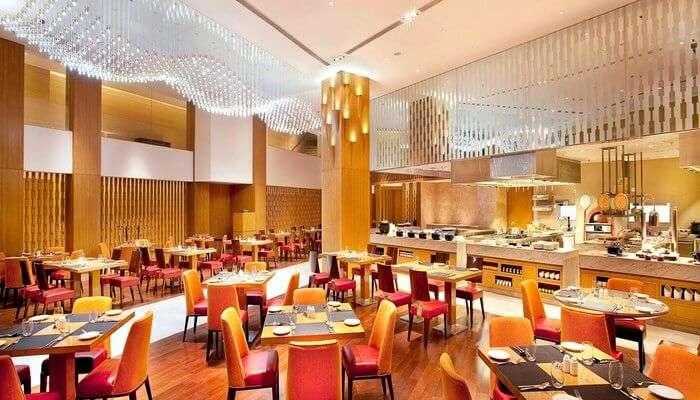 Amid a friendly atmosphere and with a perfect blend of tastes and styles, Momo Café is known to offer an endless choice of all-day dining. Sunday Brunch here is something we would recommend you not to miss and the said café features an open kitchen where some of the finest chefs are working in their best possible manner to prepare some mind-blowing and delicious delicacies for their guests.
Cuisines: Indian, Italian, Middle Eastern, International and Cafe
Special Diets: Vegan Options, Halal and Gluten-Free Options
Meals: Lunch, Dinner, Brunch and After-hours
Features: Reservations, Private Dining, Parking/Valet Parking, Seating, Free Wi-Fi, Buffet and Live Music
Location: DB City – Arera Hills Courtyard by Marriott, Bhopal, Bhopal 462011 India
Suggested Read: 8 Enchanting Resorts In Bhopal That Prove Simplicity Is Beautiful Indeed
Manohar Dairy & Restaurant – Hamidia Road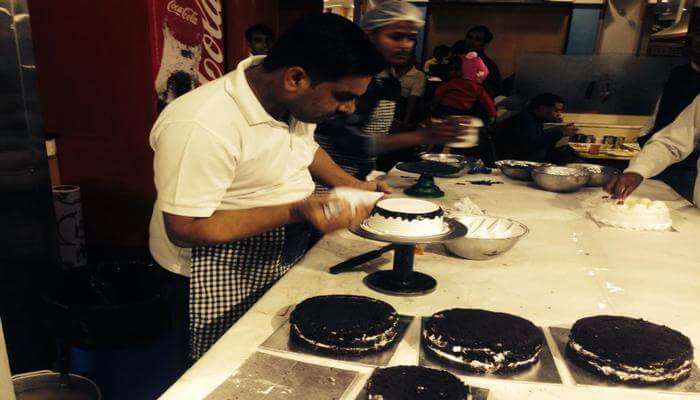 Another one of the fine restaurants in Bhopal owing its fame to cosy environment, homely atmosphere and a wide variety of foods it offers. Guests are often heard praising their Cholle Bhature, Veg Biryani and of course the delicious Noodles. The rates are reasonable and all delicacies are simply delicious without a doubt.
Cuisines: Indian, Chinese, Asian and Fast Food
Special Diets: Vegan Options and Gluten Free Options
Meals: Breakfast, Lunch, Dinner, Brunch and After-hours
Features: Seating, Takeout, Reservations, Parking and Table Service
Location: 6 Manohar Hamidia Road, Bhopal 462001 India
Greek Food & Beyond
Greek Food & Beyond is the best place in Bhopal to savor authentic Greek cuisine, though their menu spans the whole globe with a range of Italian, Lebanese, and Chinese dishes as well. The space is very charming, with a cool, relaxing ambiance and a stellar outdoor seating area. From your table, you can watch the kitchen in action as they prepare tasty lunch dishes like their Big Greek Salad and delicious warm panini, or tempting dinner entreés like vegetable tangine and risotto. After you've sampled their tasty 'Greek Food,' go 'Beyond' with a sinful slice of their Death by Chocolate cake.
DB City Mall, M. P. Nagar, Hoshangabad Road, Arera Hills, Bhopal, Madhya Pradesh +91 755 664 4108
La Kuchina
La Kuchina is a delightful Italian restaurant in Bhopal, dimly lit and decorated with ceramic art and rustic culinary touches, like dried grains and garlic adorning the walls for a homey kitchen feel. This atmosphere is complemented by the warm, excellent service. The food is equally homey, with Italian classics like ricotta spinach ravioli, penne alfredo, and delicate thin crust pizzas. The smoked chicken carbonara is a must-try here.
Shymala Hills, Bhopal, Madhya Pradesh +91 755 2661100
Pasta Carbonara | © Gwendolyn Richards/ Flickr
Pasta Carbonara | © Gwendolyn Richards/ Flickr
Rice 'n' Bowl Thai & Chinese
Restaurant, Thai, $$$ShareAdd to PlanRice 'n' Bowl is the go-to place in Bhopal for Chinese and Thai cuisine. This is also a great choice for a sit-down restaurant with a warm ambiance that won't rack up a massive bill. Tuck into some scrumptious dishes like the crispy chicken or the paneer satay for starters, then choose from the mee goreng noodles, crispy lamb, or chicken fried rice for a flavorful main course. End your meal with a cold lemon soda for a refreshing palette cleanser.More info
Za-aiqa
HotelShareAdd to PlanFound within the upscale Noor-Us-Sabah Palace heritage hotel, Za-aiqa is one of the finest restaurants in Bhopal (appropriately located on 'VIP Road'). Here you'll have a chance to enjoy exquisite Mughlai and Peshwari cuisine alongside gorgeous views overlooking the lake. On the other side, guests have an equally entrancing view of the see-through live display kitchen, where you can watch the chefs prepare sumptuous biryanis and fresh fish tikkas before your very eyes.More info
Kebabsville
Though the name has the sweet, hokey ring of a more casual family establishment, Kebabsville may actually be the best place for a fine dining experience in Bhopal. Tucked inside the Sayaji Hotel, guests here can dine al fresco right by the pool, not far from the live grill stations where you can watch your kebabs as they're carefully cooked to perfection. Order your favorite kebab combinations, then sit back and lounge poolside as the chefs work their magic.
Near Sair Sapata, Van Vihar Rd, Prempura, Bhopal, Madhya Pradesh +91 755 276 7777
Bhopal Express
Restaurant, Indian, $$$ShareAdd to PlanOnce known as Shan-E-Bhopal, this is the world's first restaurant to be built inside of a renovated broad gauge railway coach, located in the Hotel Ashok's greater compound. You can choose to sit inside the coach or outside – we'd recommend the indoor seating here, as there are special TVs fitted to the walls so as to make it appear the train is moving. The menu is simple and affordable, providing straightforward, tasty local treats like seekh kebabs, pineapple salad, and fried lady fingers with raita. Don't miss your chance to check out this one-of-a-kind venue.More info
Winds n Waves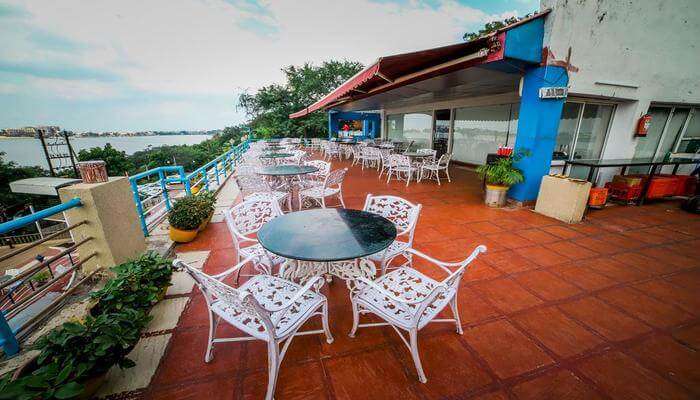 Nothing can beat enjoying lunch/dinner with near and dear ones while listening to some amazing live music at one of the known restaurants in Bhopal. Winds n Waves is considered to be one of the finest restaurants in the region and is often praised by all its guests. It is well known to host a birthday/business party owing to its spacious area and amazing hospitality let alone the friendly staff who are very well versed with the term guest ethics.
Cuisines: Indian and Asian
Special Diets: Vegan Options and Gluten Free Options
Meals: Breakfast, Lunch, Dinner, Brunch and After-hours
Features: Seating/Outdoor Seating, Takeout, Reservations, Parking, Television, Free Wi-Fi, Full Bar, Waterfront and Table Service
Location: Van Vihar Road Near Boat Club, Shyamala Hills, Bhopal 462002 India
Under The Mango Tree
Under The Mango Tree is a superb open-air fine dining establishment, located inside one of the best hotels in Bhopal, The Jehan Numa Palace. This ultra-chic space is all about openness, from the surrounding views of greenery and tranquil water fountains to the un-walled kitchen, which offers customers a view of the food as it's skillfully prepared. The chicken kebabs here are some of the best in the city, but you'll have equally great luck with their kadhi pakoda, butter chicken, or gobhi paneer bhurji.
157, Shymala Hills, Bhopal, Madhya Pradesh +91 755 266 1100
Da Pizzeria
Da Pizzeria is is a great stop in Bhopal for those craving cheap, delicious pizza and other satisfying Western snacks. Their low rates attract a big crowd, but their regulars come back for the quality of the food. Be sure to try the tandoori paneer pizza, or the corn o mania pizza for veggies. Those seeking a hearty dinner will find a satisfying pasta menu here as well. If you've got a sweet tooth, don't forget to grab a chocolate brownie on your way out.
Zone-II, Maharana Pratap Nagar, Bhopal, Madhya Pradesh +91 755 400 3330
Sankalp
Restaurant, Indian, $$$ShareAdd to Plan
Ondu Plate Idli Vada | © Harsha K R/FlickrFor great Indian cuisine that's still a little off the beaten track for Bhopal, Sankalp's menu is dominated by South Indian dishes. This is a sweet family restaurant open for lunch and dinner, known for its classy ambiance and fast, friendly service. Start with a flavorful snack like the tandoori potatoes or telengala aloo, then dig into their broad variety of tasty dosas and idlis. Another standout is is their fresh green chutney, which comes with complimentary khakra, a crispy, crunchy flatbread hailing from Western India.
FAQs About Restaurants In Bhopal
Is Bhopal worth visiting?
Yes, Bhopal is worth a visit. It is one of the finest cities in the state and is often considered to be a great holiday destination owing to its beauty in diversity.
Where is Bhopal located?
Bhopal is the capital of Madhya Pradesh. It is about 741 km away from Delhi and near about 789 km from Mumbai let alone 200 km away from the beautiful city of Indore.
What are the best restaurants in Bhopal?
Lazeez Hakeem, Momo Café and Winds n Waves are some of the best-known restaurants in Bhopal which have earned quite a name for itself owing to its delicious food and adorable and cosy atmosphere
What are the most romantic restaurants in Bhopal?
Winds n Waves and Under the Mango Tree are certainly very popular amongst the couples who are often heard praising the said restaurants
What are the budget restaurants in Bhopal?
Indian Coffee House, Bapu Ki Kutia and Under the Mango Tree is very well known for their delicacies which are certainly reasonable yet amazingly delicious.
A. Q. What sort of food is served in restaurants?
A. Depending on your choice and convenience you can order the food from their menu. Vegetarian or non-vegetarian food items are served in most all these restaurants however you can verify it before hopping in.Q. Which cuisines should I try here?
A. Indian and Asian are served also in every restaurant however some are also known for their Thai, Italian and other international cuisines. It depends on the particular restaurant you would like to visit.