WhatsApp's new data privacy rule has left many users doubtful around the world. Data privacy has been a major concern for most since the stunning revelations made by Julian Assange and Edward Snowden.
WhatsApp recently made a change to its data sharing policy and have given all its users to comply with it until by Fubruary 8 or uninstall the app. As per the new update, WhatsApp will share user data with other Facebook companies. This is contrary to Facebook's early promise that its goal is to 'know as little as possible', when it acquired WhatsApp back in 2014.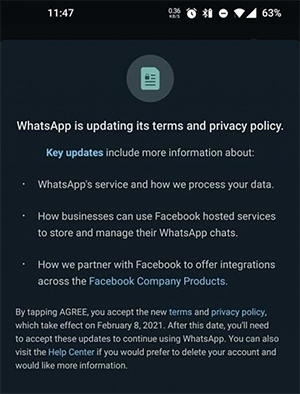 What the new update says
WhatsApp is updating its terms and privacy policy. Key updates include more information about WhatsApp's service and how it processes data, how other Facebook hosted services store and manage their WhatsApp chats and how WhatsApp will partner with Facebook to offer integrations across the Facebook Company products. It further goes on to say, "By tapping AGREE, you accept the new terms and privacy policy, which take effect on February 8, 2021. After this date, you'll need to accept these updates to continue using WhatsApp. You can also visit the Help Center if you would prefer to delete your account and would like more information".
What does whatsapp new update means
This means all the data that WhatsApp has on you will now be shared with other Facebook owned companies as well. Some of this information includes location data, IP addresses, time zone, phone model, OS, battery level, signal strength, browser, mobile network, ISP, language, time zone and even your IMEI.
Other information that will be shared will be how you message, call, groups you are attending, Status, profile photo, the last time you were online, etc. Those who make payments via WhatsApp will also have data related to that shared with the companies. The company says this is for analytical purposes.
This also means that Facebook will have access to a lot more data which other companies it owns can use to further their product reach. At a time when data is being seen as the new oil, this new update in data sharing will hugely benefit Facebook and its subsidiaries.
Does this affect everyone
Although the update is being rolled out globally, users located in the European Union will not have their data shared. This is because the 27 countries that are part of the European Union, have tighter privacy legislation in place known as GDPR (General Data Protection Regulation). Users from these countries will not have their data shared with third parties. All other users across the world will have their data shared.
What happens if you delete WhatsApp?
If you are not willing to have your data shared, you may opt to uninstall the app from your phone. But, this does not mean all you stored data will be immediately deleted. Deletion of your account will not result in an automatic deletion of all information that are currently being stored and it might be stored for a longer period of time.
It also adds, "Please remember that when you delete your account, it does not affect your information related to the groups you created or the information other users have relating to you, such as their copy of the messages you sent them".
How WhatsApp is justifying the new rule
many view the new data sharing policy put forth by WhatsApp as a serious breach of privacy by its parent company Facebook. But the company has said that the new rules will improve infrastructure and delivery systems, understanding how WhatsApp's Services or theirs (Facebook and other Facebook companies) are used, promoting safety, security and integrity across the Facebook Company Products.
These include securing systems and fighting spam, threats, abuse, or infringement activities; improving Facebook's services and users experiences around them, such as making suggestions for users (for example, of friends or group connections, or of interesting content), personalising features and content, helping users complete purchases and transactions, and showing relevant offers and ads.